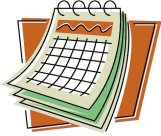 Upcoming Shows


Curliosity will be exhibiting at various shows in Arizona and the southwest during the Fall 2017 season. Additional shows are being planned; confirmed shows are listed below. Please come out and see us!


Litchfield Park Library Festival of Arts
101 W Wigwam Blvd, Litchfield Park, AZ
Sat, Sun, Nov 4-5, 9-5 daily

Fountain Hills Festival of the Arts
Avenue of the Fountains, Fountain Hills, AZ
Fri, Sat, Sun; Nov 10, 11, 12; 10-5 daily
Booth Number: C-108 and C-109

ArtFest of Scottsdale
Scottsdale Civic Center Plaza, Scottsdale AZ
Sat, Sun; Nov 18, 19; 10-5 daily
Booth Number: 152

Cave Creek Art Show
The Roadhouse, 6900 E Cave Creek Rd, Cave Creek, AZ
Fri, Sat, Sun, Nov 24-26, 10-5 daily

Carefree Art Show
In the Carefree Town Garden Center at Sundial Circle, Carefree, AZ
Fri 3PM to 8PM; Sat 10AM to 5PM; Sun 10AM to 5PM, Dec 1-3

Tucson Fourth Avenue Street Fair
Fourth Avenue, Tucson, AZ
Fri, Sat, Sun; Dec 8, 9, 10; 10-dusk daily


Thanks for another great season! We hope to see you at a show early next year.

Additional details will be posted as they become available.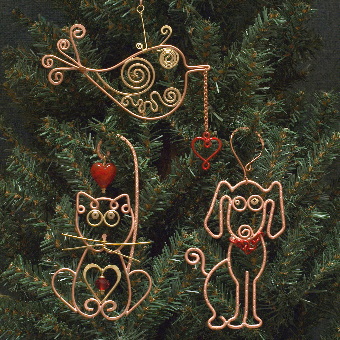 About the Artist
Maryann Hamel is a local artist whose work features a southwest design that is expressed through copper, brass and semi-precious stones. Maryann works from her studio in Scottsdale, Arizona, where she creates a variety of functional and decorative items: blown-glass vase holders, wind chimes, holiday ornaments, spinning wind sculptures and decorative bookmarks.
Maryann exhibits at art shows throughout the southwest, and her work has been used for fundraising events by Brandeis University, the John C. Lincoln Memorial Hospital, the Phoenix Art Museum League and other organizations. Maryann's work has become increasingly popular with residents of the southwest, and with visitors who like to bring home souvenirs and gifts.
---
If there was a "Periodic Table of Artists," this would be our entry: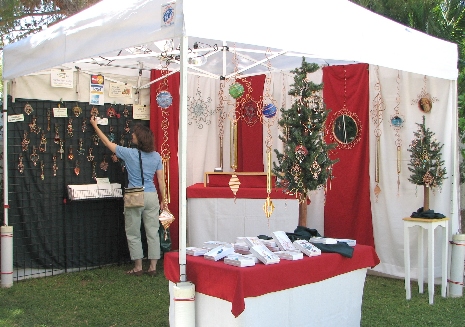 Curliosity Copper Art Booth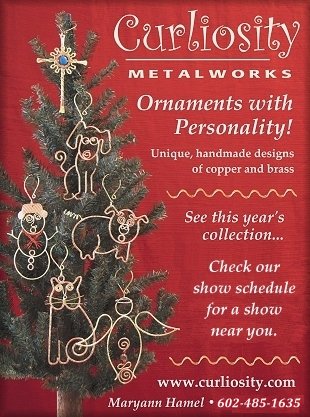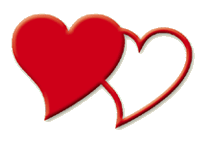 Customers Love Curliosity!
It's been gratifying to hear back from so many of our customers about our art work. Here are just a few of the comments we've received:
"I've now given your Christmas ornaments to family for the third year in a row, and each time they have been very well received. Looks like I've started a tradition!"
-- Pauline O.
"My daughter was delighted with the wind chime I gave her! It's the perfect item for her backyard porch."
-- Christine T.
"Your pieces are unlike anything I've seen before. We decorate with a Southwest style, and your items are now the highlight of our home."
-- Vicki R.
"As a man who has had some experience working with metals, I can appreciate your workmanship and attention to detail. My wife was very pleased with the wind chime I purchased."
-- Ron G.
"The angel ornament I bought for my aunt made an old lady very happy. Just thought you'd like to know. See you again when you come to Tucson..."
-- Donna A.
"The face mirror is adorable! The minute I saw it I just had to have it. Enjoyed seeing you again at the Carefree show."
-- Sarah P.
"Your prices are so good I'm buying Christmas presents for people I don't even like."
-- unknown shopper
"This one's freakin' awesome!!"
-- young female shopper, looking at a glass ball chime
"Already I'm bored."
-- unknown husband