Menu: View > Right Margin Rule
Default Shortcut Key: Alt+F6
Macro function: ViewRightMarginRule()
The View Right Margin Rule command is used to toggle on and off the display of a thin vertical line which marks a user-defined column. The Right Margin Rule can be used as a visual reminder that a particular line length has been exceeded.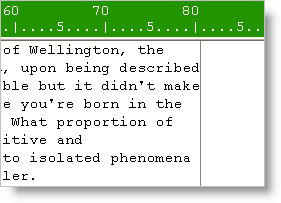 You can set the Right Margin Rule to any column you desire; the default is column 80. An option is provided to set the column on the Configure | Preferences | Display options page. The option is titled Show right margin rule at column...
Clicking on the Right Margin Rule with the right mouse button provides access to its , which allows the line to be turned off.