If you find it easier to do so, you may wish to order from one of our International Agents. Our agents accept payment in local currency and ship product from stock. Technical support services are also available.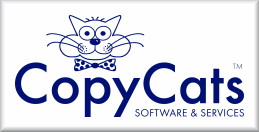 The Netherlands, Belgium and Germany (and elsewhere in Europe)
Users in these countries can order Boxer Software products from our agent, CopyCats Software & Services, and pay in their own currency. CopyCats also accepts private and corporate orders from other European countries, but additional handling costs or bank charges may apply - please contact CopyCats for details.
CopyCats delivers from stock and provides technical support. Multi-User Licenses are also available. Please click to view the CopyCats order form.
Phone: +31 (0)72 5745993
Fax: +31 (0)72 5726559
Email: info@copycats.nl
CopyCats Software & Services
Postbus 1088
1700 BB Heerhugowaard
Netherlands