Menu: Tools > Line Drawing
Default Shortcut Key: Ctrl+F12
Macro function: LineDrawing()
The Line Drawing command can be used to enter a mode in which the arrow keys are used to draw lines in a selected frame style, or with a specified character. A dialog box appears from which the drawing style is selected: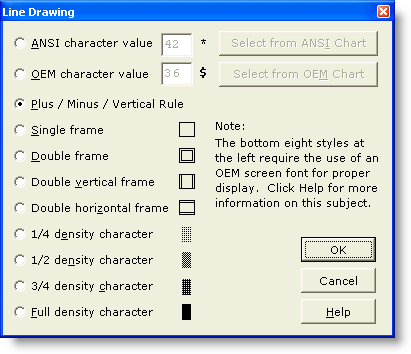 A drawing style is selected by checking the radio button which corresponds to the desired style. Options are also provided to draw with some other character, and either the ANSI Chart or OEM Chartcan be summoned to assist in character selection.
When using an OEM Screen Font, several additional drawing styles may be used. The bottom eight styles offered in the dialog box require the use of an OEM screen font for proper display. The ANSI character set does not contain these characters, so using these styles with an ANSI Screen Font will produce undesirable results.
Once OK is clicked, Line Drawing mode is active. Use the arrow keys to create lines or boxes as desired. Use Esc to cancel Line Drawing mode.
When drawing atop lines which contain Tab characters, the Tabs will be automatically converted to Spaces to ensure proper display. When Line Drawing occurs past the end of a line, the line will be automatically extended with Spaces. If the end of file is encountered, additional blank lines will be added automatically so that Line Drawing can proceed.
| | |
| --- | --- |
| | When printing files which contain drawing characters from the OEM character set, be sure to use a Printer Font which also uses the OEM character set. |